Competitive Strategy Board Games That Aren't Monopoly
Game night rolls around, and while it's easy to default to Monopoly – there are better ways to soil your friendships and establish dominance (read: bragging rights). It's time to switch things up, and lucky for you, we've gathered ten popular medium-level competitive board games to try at your next game night. 

(warning: the fun below may result in trauma resulting from game pieces hurdled across the room)
It's a fight to the death when giant monsters battle over Tokyo in this dice-roller!
2-6 Players | 30 Minutes | Ages 8+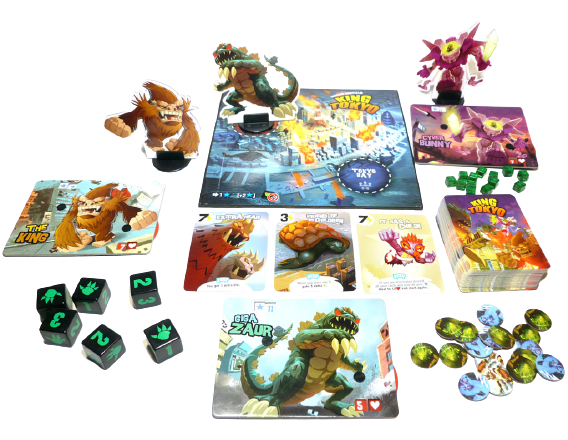 This tabletop adaptation of the classic playground game, King of the Hill, is sure to get a rise out of your friends and family on game night. Players assume the roles of mutant monsters, robots, and aliens, all with the end-goal of destroying Tokyo and knocking down anyone that tries to get in their way. Gameplay is rolled with push-your-luck dice rolling, alliances formed that are sure to be broken over time, while redefining the term, "survival of the fittest".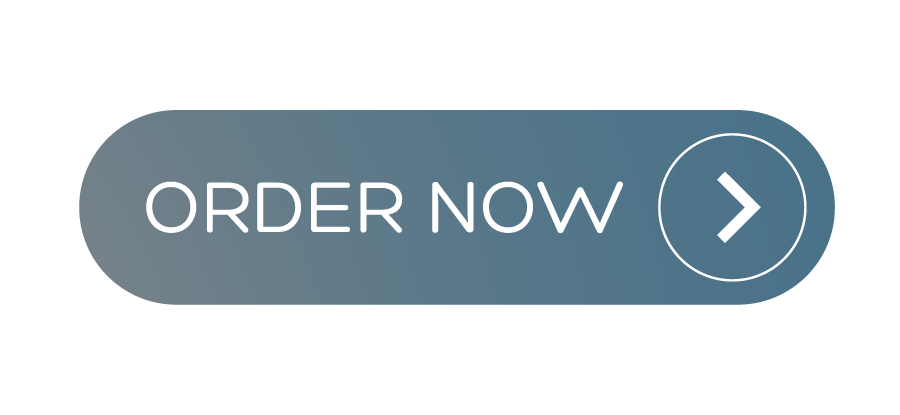 Draft cards to develop your ancient civilization and built its Wonder of the World!
2-7 Players | 30 Minutes | Ages 10+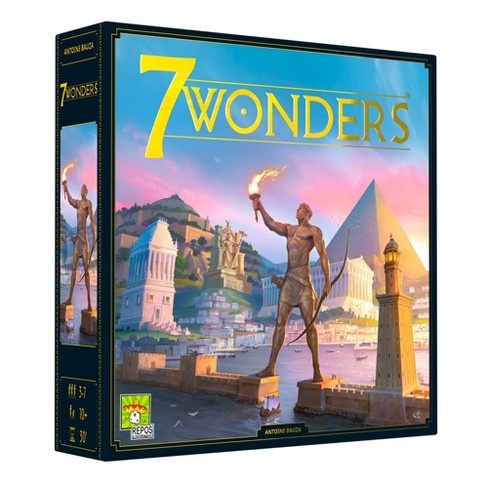 Built your city and erect an architectural wonder that will transcend future times in the popular card-drafting game, 7 Wonders! Gameplay, like this year (seemingly), lasts three ages. In each age, you will receive a hand of 7 cards from a particular deck, draft one and pass the remainder to an adjacent player. reveal their cards simultaneously, resolve them as needed, and repeat the process until each player has six cards from that age. 

Draft strategically to lead your great city of the ancient world to victory! Some cards have immediate effects, while others provide late-game upgrades, discounts, or bonuses. This ancient civilization builder did get a modern upgrade in 2020, featuring a redesigned box and re-release of popular expansions making it even more friendly to new-players now, more than ever.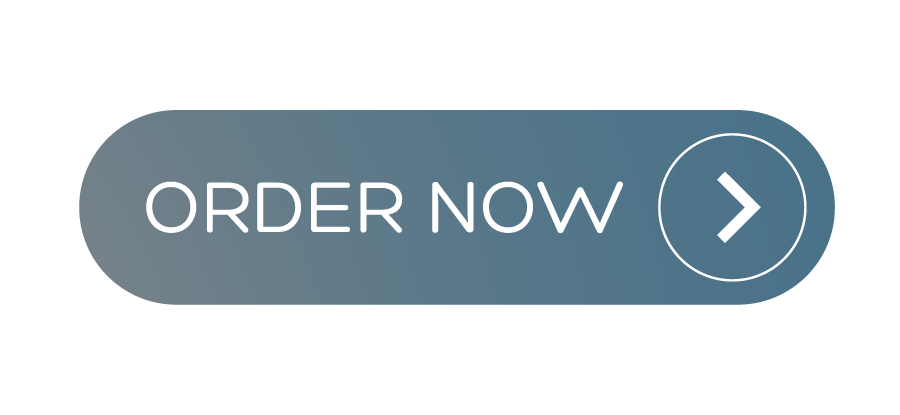 Build your railroad across North America to connect cities and complete tickets.
2-5 Players | 30-60 Minutes | Ages 8+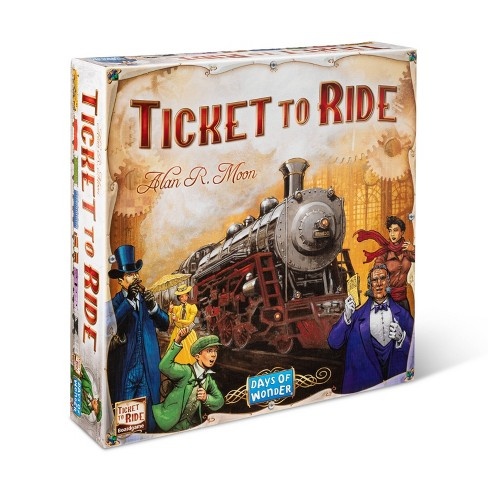 An elegant, simple hand management game, Ticket to Ride is a phenomenal "gateway game" from casual classics like Monopoly into the world of euro-style board gaming! Simply said, the rules are simple enough to write on a train ticket. You're presented with a map and distributed secret objective cards that you must connect via train route! On your turn, you can choose to either draw more cards, claim a route, or collect additional destination tickets allowing yourself more options for victory. 
Tension builds, as players must balance the greed of card collection and the fear of loosing critical routes to competitors on a similar mission!
Already have the base game? Try out one of the many destinations
available here.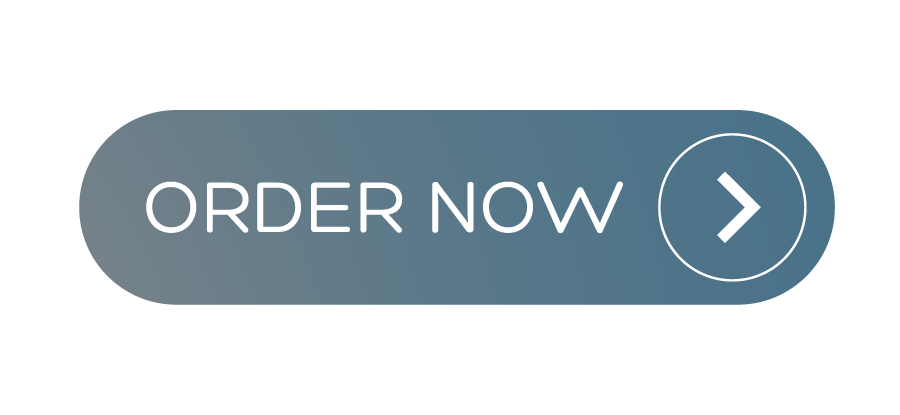 Ask for favors, attack friends, see the future - whatever it takes to avoid explosion!
2-5 Players | 15 Minutes | Ages 7+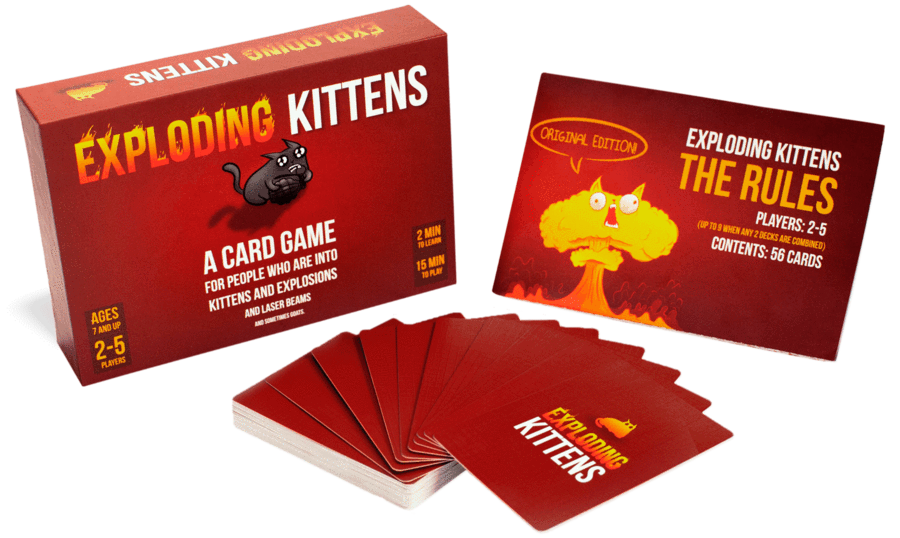 Exploding Kittens took the world by storm with it's release in 2015. A family favorite, gameplay is strategic yet simple. On your turn, you play a card, then draw a card. But be careful! There are bombs hidden within the stack equivalent to the # of players - 1, leaving room for only one winner. 

This kitty-powered take on push-your-luck games like hot potato turns up the heat, and sabotage is a guarantee. Have more than 5 players? Try out the Party Pack, featuring all of the components in the base game, plus additional cards for up to 10 people.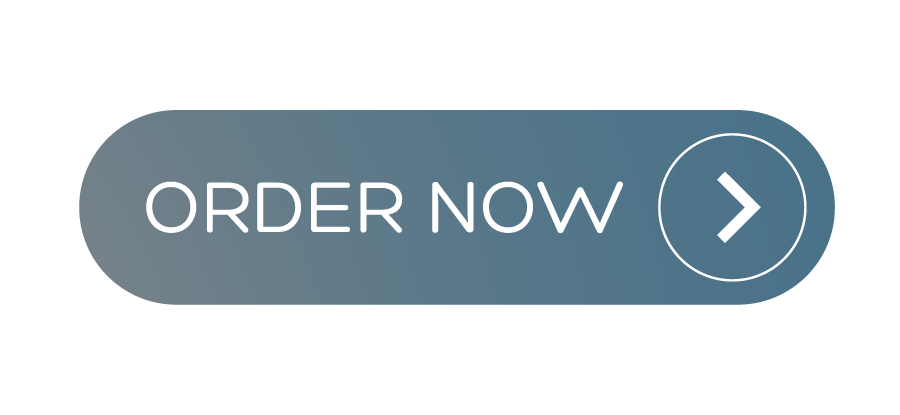 Plan well as you build your town one building at a time. Will it fit?
1-6 Players | 45-60 Minutes | Ages14+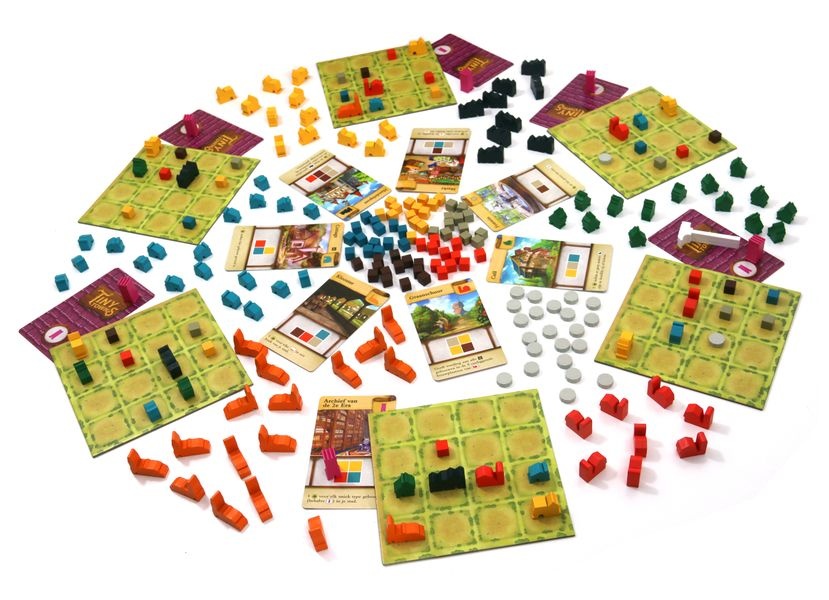 You're the mayor of a small woodland clearing, and your residents need your help in developing important structures like cottages, farms, taverns, banks, and fountains! But there's a twist–resources are limited, and as each other tiny town mayor (read: other player) passes their turn, you must gather the resource that they declare and place it on your board. Space is limited, and the grid quickly fills with no opportunity to move or replace resources until a structure is built according to its pattern. Equipped with a notepad formatted for easy scoring, and various structures to switch out between games for variable game play, Tiny Towns is an incredible "take-that" style game, with low language dependency for the whole family's enjoyment.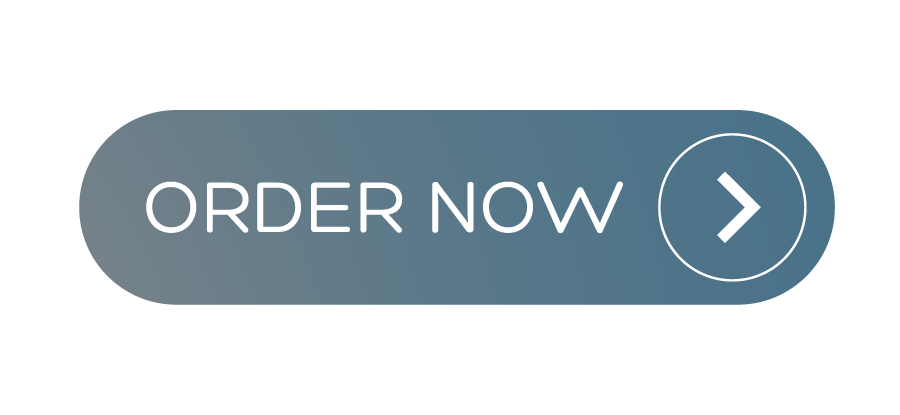 Sell heroes the gear they need to defeat monsters threatening your town.
2-6 Players | 30-60 Minutes | Ages 8+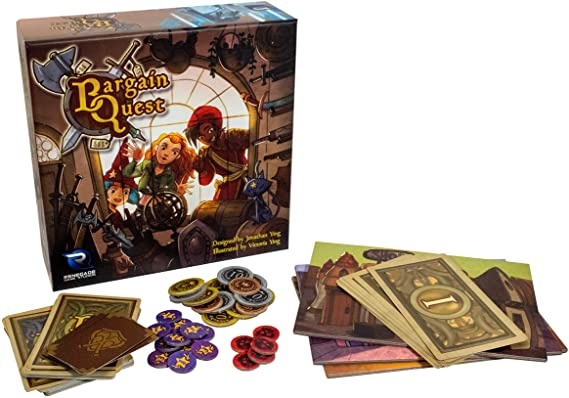 You're shopkeepers in a medieval city tormented by monstrous threats! Fear not, heroes have ventured into town to gather equipment before engaging in battle to protect the city. Advertise the flashiest gear, and sell your passerby's equipment to secure victory and survival against the danger that awaits them. As the game progresses, players will encounter new heroes and monsters, with occasional opportunities to hire employees and upgrade their shop inventory - optimizing profits and promising the security of all townsfolk.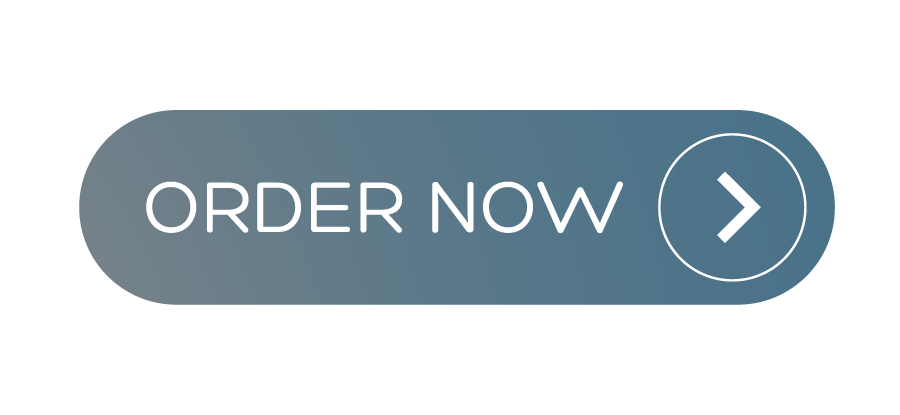 Renaissance merchants race to grab gems, acquire property, and please nobility.
2-4 Players | 30 Minutes | Ages 10+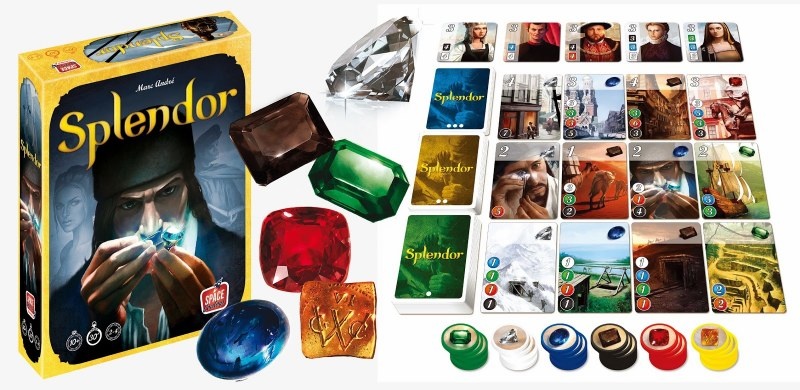 Players are merchants, tasked with collecting gemstones and using them to purchase cards on a quest for prestige points. On your turn, you may (1) Collect gems, (2) Buy a Card, (3) Reserve a Card, all with intentions of slowing down your opponents and emerging victorious. Leverage your resources strategically and you may just receive a visit from one of the Nobles, who brings victory points with them in tote. 

Already own the base game? Try out Splendor Marvel, or Cities of Splendor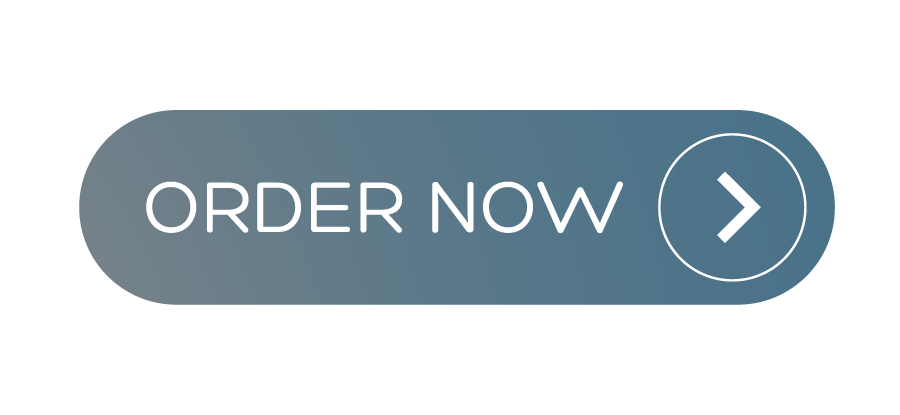 Seasons pass as you develop your vineyard, harvest grapes, make wine and fill orders!
2-6 Players | 90 Minutes | Ages 13+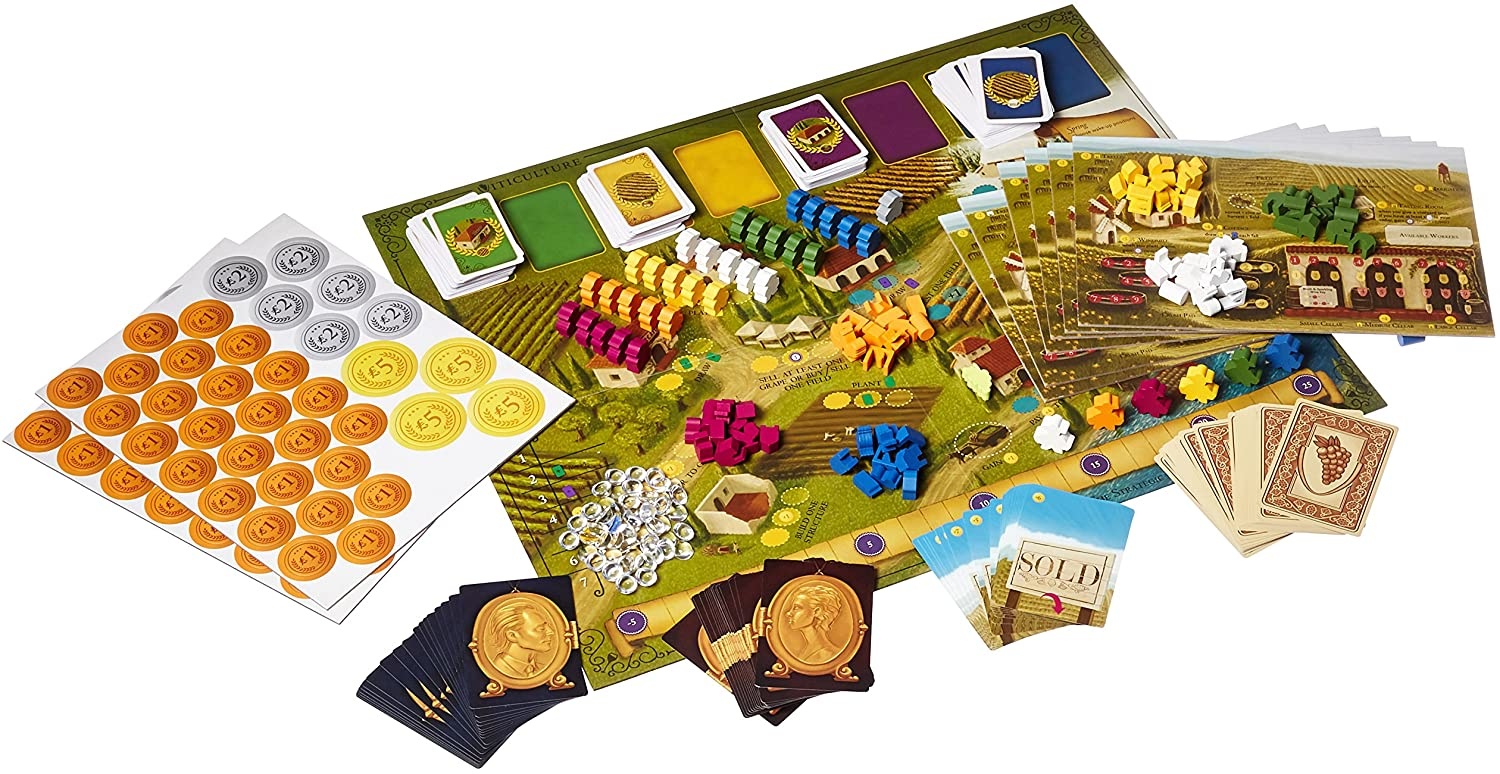 You and your friends have recently inherited meager vineyards in pre-modern Tuscany, equipped with a few plots of land, an old crushpad, a tiny cellar, and three workers each. Sharing the dream of running a successful Vineyard, only one of you will make it to the top. The arrival of each season is not without it's challenges, either, so get your workers there first for substantial advantages.

Fortunately for all players, people love to visit wineries (duh!) - and it just so happens that the locals are eager to visit your vineyards briefly, offering useful help along the way!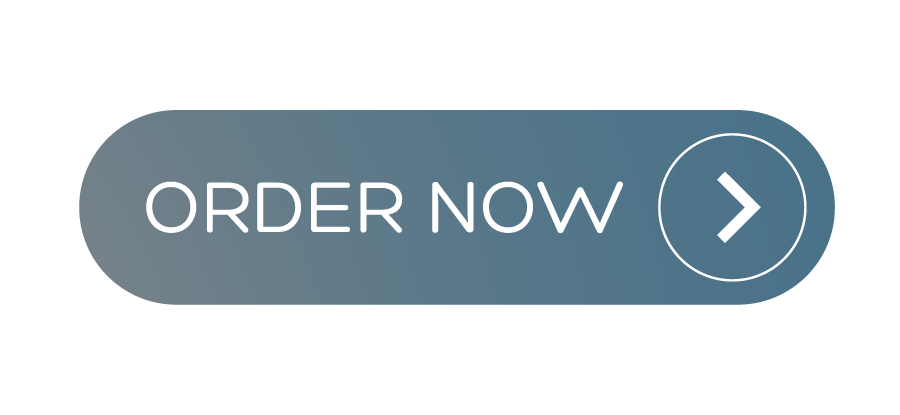 Collect and trade resources to build up the island of Catan in this modern classic!
3-4 Players | 1-2 Hours | Ages 10+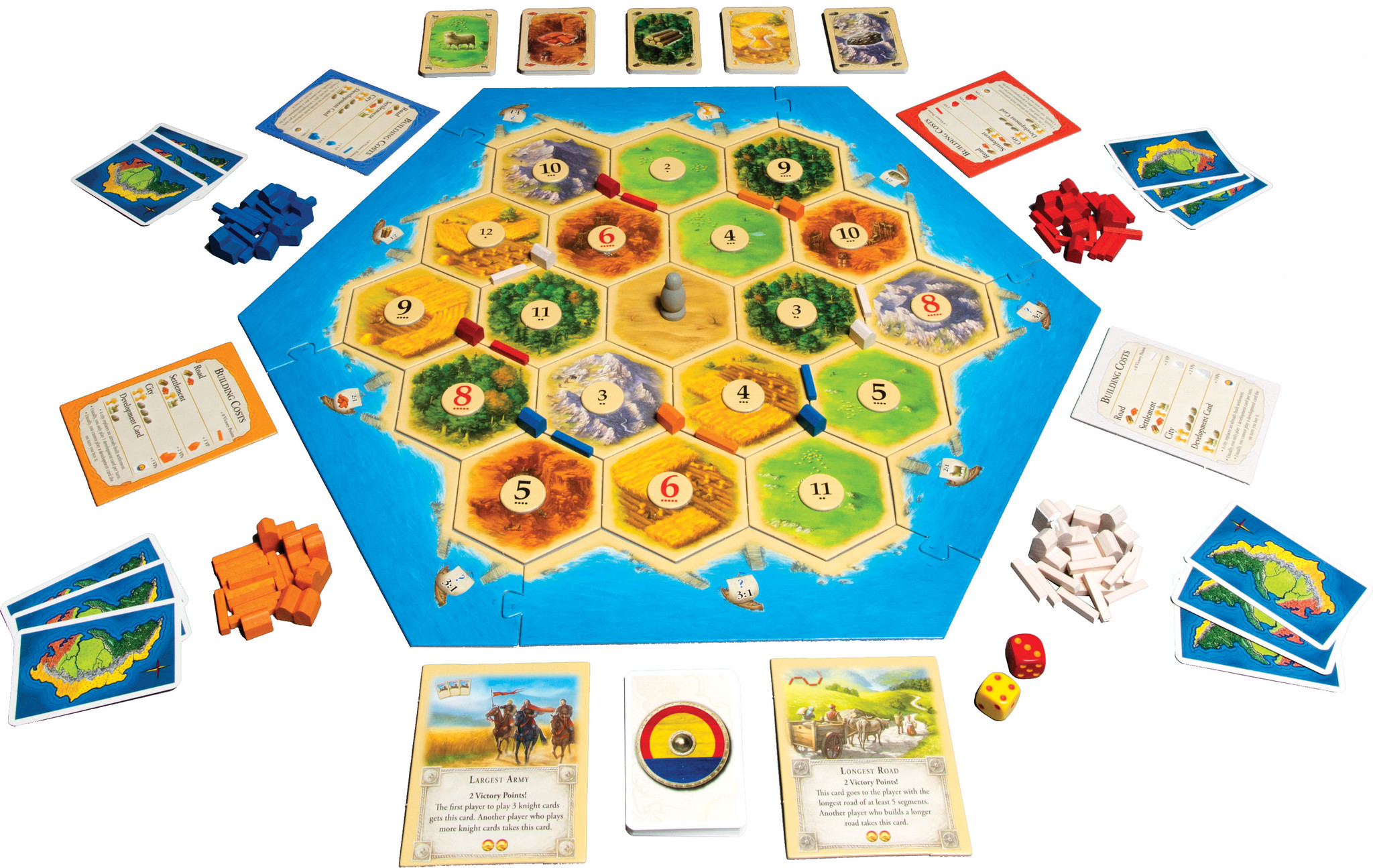 You thought we were going to get through this list without highlighting one of the most popular board games of all time? In Catan, (formerly Settlers of Catan), players compete to be the dominant force on the island of Catan by building roads, settlements, and upgrading to cities! Unfortunately, you are at the mercy of the dice roll, and the spatial constraints of island living. Start the game strategically, barter and trade for resources necessary to secure victory, and maybe even steal some from your opponents along the way.

The 25th Anniversary Edition released in the past minute, featuring the 5-6 player expansion, card trays, sleeves for your entire game, and special anniversary tokens!