Top 25 Discs from 2020: The CFG Recap
View the original blog post here.
A wise man once told me that there's room for everyone in disc golf. So, I'm going to start 2021 on the right foot and get a solid post out there. Plus, we're going to cross streams, with Flippin Discs and Cape Fear Games. It worked for the Ghostbusters.
Paved With Good Intentions
It was a long year. In fact, 2020 felt like 3 years, and it was, a little bit. We were building the disc golf section of the store: adding accessories, working and re-working the rack, mixing in the lighter weights, and staying on top of special editions. We started our own Disc Golf Facebook group so we wouldn't flood the local group pages with restocks, and grew to over 200 members. We brought back Prodigy, going for a more user-friendly approach with low speeds and understable discs that weren't something we did well previously. The backstock was an issue, slow movers were moved out, and we were getting ready for the Azalea Am by building up safety stock, ordering a little heavier on the popular molds across all brands to stay in stock between orders. Which was a good thing.

March and April wasn't as tough on me as it was for many. It felt like a whole different kind of year though. I was working from home, tweaking our listings in our retail system (like much of our staff,) adding pictures for some reference for discs. I was working on other categories too. (I don't just do Disc Golf.) Curbside pickups were the norm, with $30 minimum orders. A few staff members in the store scrambling to shop for customers, even staging discs inside on a table so customers could look at them, like it was some warped hospital nursery. You guys hung in there though. Then the Azalea Am was postponed and we were about to enter a whole other world of 2020.

My heading is a bit tongue in cheek, because on the other side of the early shutdowns, we came into an amazing place where Disc Golf simply exploded. New people were being introduced to the sport. Players were coming back after years away from the game. You could be outside, socially distance but still be social...and just play. The road paved wasn't leading exactly where we though it might, but the struggles all over were real. Still are.

The Am got postponed again (stupid hurricanes), but our preparation allowed us to have plastic when stock was depleting all over. I could go into all of the craziness as MVP and Discraft were all but shut down in Michigan; Dynamic was having trouble getting stock from Sweden while working with skeleton crews themselves; Discmania having ups and downs and at the mercy of other companies producing their discs; Innova in California, scrambling to produce enough for the demand, as they all were. But that's not our story.
"I Was Told There Would Be No Math"
It's ok. I'm not going to give you a bunch of numbers. All year long, we've been looking at discs, and sales, for the first half of the year and most of the second half. During those times, we were just looking at molds. Discs like the Buzzz and Aviar, among others, benefited from having special editions and being available in 6 million different plastics. Some discs, like the Fierce and Malta, did it on their own, although we did include first run numbers in those. But ultimately, it was just one disc in one plastic.
So, what were the Top 25 Discs sold at CFG during 2020?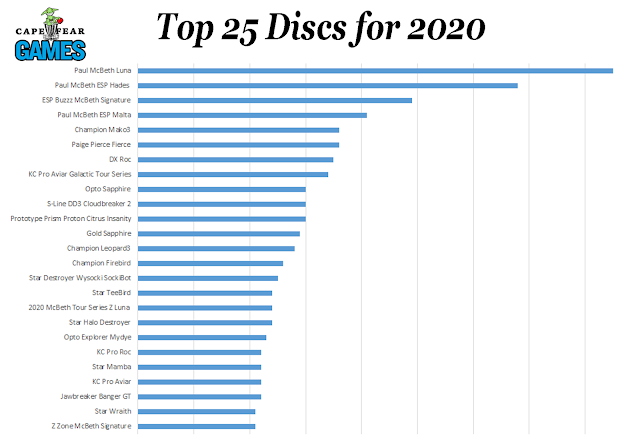 Tah dah! No surprise, again, that Paul was a dominant figure in disc golf sales. With Discraft playing Mars Blackmon to their Jordan-esque figure in the game (after he established himself with Innova, to be fair,) the top 4 were driven by the McBeast himself. Honestly, the Buzzz had already built a reputation on it's own. The Luna fit so many people, so well, and every time we got in a shipment, they were gone quickly. We couldn't get enough, but we were are still trying.

Availability impacted sales, with Zones going fast. Innova split themselves up with the Wysocki Destroyers - Raptor, Signature and SockiBot (the latter grabbing a top 25 slot with a late year surge.) Special Editions like the Cloudbreaker 2 and the Citrus Insanity held on their own, with limits on product being the only reason it didn't perform better in just our locale. Here's some more fun...
There are 4 molds that appear twice in the Top 25 - KC Pro Aviar, Luna, Destroyer and Sapphire. There are 5 if you consider the DX Roc and the KC Pro Roc to be similar enough. However, the Luna, Destroyer, and KC Pro Aviar all had special editions on this list (Tour Series and Halo.) Only the Sapphire from Latitude 64 got 2 on this list in stock varieties, the Gold Line and Opto.
The Sapphire was introduced this year as the next step up from the Jade and Diamond in their Easy-to-Throw series. I bag both. I highly recommended it and our customers loved it. It was a testament to a design that was a perfect distance driver for all the new players out there. In fact, had it not been for a late burst by the Star Wraith, there would have been a 3-way tie in the 25th spot with the Retro Burst Pure, Halloween Glo Hellraizzzer Buzzz, and Opto Sapphire MyDye. Could have been 3 in the top 25.

It could also be said that the familiarity of all things Innova helped customers to be comfortable with the tried and true, having 12 molds on the list. Maybe following the 5-time champ, formerly of Innova fame, helped 6 of Discraft's 8 discs become fast sellers.
What's In A (Brand) Name?
My favorite quote, attributed to Mark Twain, I believe, is "there are lies, damn lies, then there are statistics." That's because, as I will explain, you can really look at numbers in different ways to tell different stories. Here are the stories I can tell you about 2020.

Every disc golf brand experienced growth last year, but Innova still has some local clout, pulling the highest sales numbers. However, if we consider Innova vs. the Trilogy (Dynamic Discs, Latitude 64 and Westside Discs) then you'd have to #bedynamic to beat Dynamic from that standpoint. 
From a strictly growth view, Prodigy did some great things in our store. The P Model S was a hit and having discs for a variety of skill levels were certainly more inviting. The MVP Black Hole Pro portable basket with Transit Bag grabbed lots of attention, and customers grabbed them up to play the game wherever they were. I have one for practice putting (but I don't brag about it too often...because sometimes I suck.)

Here's one more to wrap your mind around. With Latitude 64 producing discs in all of the Trilogy molds, AND Discmania's Evolution line, could you argue that they're the premier manufacturer of disc golf plastic? Innova produces a lot of plastic for other brand names as well It's just something to think about, but it did Tilt their way this past year. You can groan at that one, if you got it.
Where Are You On the List?
I have thrown just about every disc on that list (and lots more.) But it doesn't matter what you throw as long as feels good in your hand and you have fun while you huk 'em. I'm still convinced that if Rubbermaid made trash can lids with that PM logo on it, y'all would have me making room to stock those things. I kid. They'd be way too over stable.

The staff at the store has felt the same things as many of you out there. I took some of my co-workers out for their first experiences, and regularly play with one newcomer and one that came back to playing more. I think the best thing about disc golf is the community. Customers helping customers in the store and more of our staff being comfortable talking about discs and wanting to learn more. Seeing more new faces at some of the monthlies was uplifting.

I would be remiss without mentioning the top of my list. Heath Newton. Without his passion for the game, his vision to be what we are, his desire to support the community beyond the store's walls, and his encouragement to let me go "full send," none of this would matter. Short and sweet. Shop local. Come to Cape Fear Games and check out some of our Flippin Discs.